2023 SHOW DATES & HOURS
Thursday, March 2, 2023
12:00 p.m. - 8:00 p.m.

Friday, March 3, 2023
10:00 a.m. - 8:00 p.m.

Saturday, March 4, 2023
10:00 a.m. - 8:00 p.m.

Sunday, March 5, 2023
10:00 a.m. - 6:00 p.m.
Admission
Box Office
Adults 13+ $11.00
Children Ages 12 & Under FREE

Buy Online & Save
** Adults 13+ $9.00 ($2 savings off the box office price)
**Advance Adult Admission will be at the $9 discounted rate through 3/1/23. Starting opening day of the show the price will increase to $11 online, same as box office pricing.
I'm unable to find my tickets!
You may have your ticket confirmation email resent to you by visiting the following link: https://www.microspec.com/tix123/Resend.cfm

Show Location
PA Farm Show Complex
2300 North Cameron Street (Cameron & Maclay Sts.)
Harrisburg, PA 17110





The Farm Show Complex is located 2 blocks south of Exit 67-A on I-81.
PARKING
Parking is first come, first served at the PA Farm Show Complex. Parking is $10 and is cashless. You will be directed by parking attendants upon entering the lots. Please use the J entrance and come behind the building to Maclay Street Lobby to enter the building.
Due to our show running the same dates as Horse World Expo, we have worked with the venue to set up an offsite lot and shuttle to the entrance if the onsite lots become full.
Shuttle Information:
If the onsite lots become full you will be directed to park at the HACC Lot, located at One HACC Drive. Please look for the signs for pick up in the HACC Lot. There will be one pick up location on the west side and two pick up locations on the east side. The shuttles will take you directly to the Maclay Street Entrance for the show.
Shuttles will run on a continuous loop. You can expect to see a shuttle every 20-25 minutes depending on traffic.

Handicap Parking:
For handicap parking, please come to the Maclay Street Side to park and you will see spots labeled accordingly. Parking attendants will help direct you.
Please see map below for further detail:
Click HERE to open map as a PDF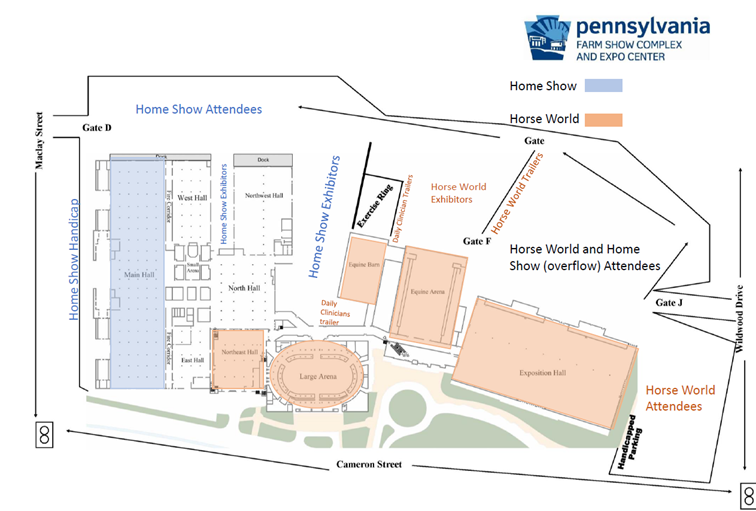 HOTELS
For those wishing to come early or stay over, the following lodging facilities are available in the vicinity of the Farm Show Complex:
Best Western Premier
The Central Hotel & Conference Center
800 East Park Drive Harrisburg, PA 17111
717-561-2800 – Direct
View website

Staybridge Suites Harrisburg-Hershey
920 Wildwood Park Drive Harrisburg, PA 17110
717-233-3304 – Direct Fax: 717-233-3305 – Fax
View Website
Online Reservations

Clarion Inn & Suites
150 Nationwide Drive Harrisburg, PA 17110
Reservations can be made through either number: 800-872-7776 / 717-545-9089
View website

Holiday Inn Express
7744 Linglestown Road Harrisburg, PA 17112
717-540-8400 – Direct 717-540-5553 – Fax
Fairfield Inn by Marriott Harrisburg – Hershey
1018 Briarsdale Road Harrisburg, PA 17109
Reservations can be made through either number: 717-412-4326 / 800-228-2800
View website

Holiday Inn
4021 Union Deposit Road Harrisburg, PA 17109
1-717-561-8100 – Direct 1-717-561-1357 – Fax
View website
Holiday Inn Harrisburg East
4751 Lindle Road Harrisburg, Pa
17111 717-704-0728 – Direct 717-939-5640 – Fax
View website
Holiday Inn Middletown/Harrisburg
815 South Eisenhower Blvd. Middletown, PA 17057
717-571-5056 – Phone
Email